Jute Hessian cloth/Burlap
Jute Hessian also termed as Burlap is a Jute Fabric, generally used for packing and wrapping industrial machine/metarials and agricultural products, wall covering, roof insulation, construction works and defense metarials. Hessian sheets also used as for tobacco wraps and in nursery as well. Jute Hessian cloth of various specifications including natural color, bright, semi-bright, bleached and dyed in different color, mineral oil treated (MOT-Jute Batch Oil), vegetable Oil Treated (VOT) and Rot Proof Available with size:
Width:

30 to 72 Inches,

Weight:

6.5 to 140 z/sq. yards.

Packing:

700 to 2000 Yards in Bale/Roll
| | |
| --- | --- |
| | |
| Natural Hessian Cloth | Dyed and Bleached Hessian Cloth |
Carpet Backing Cloth (CBC) ........
CBC in commonly known as used as base material for carpets and Linoleum. Available with specification of width: 40 to 203 Inches, weight: 5.50 z to 702 per sq. Yards. Packing: 500 to 1000 Yds/Roll. Jute Geo-Textile (Jute Mesh Soil Saver)
Jute-Geo-Textile ( Jute Mesh Soil Saver) ...............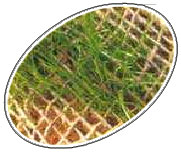 Geo-Textile is the ideal erosion control material for soil slops under all climate conditions. It is bridgeable and decomposing and hereby it adds to the soil rich organic nutrients. It's unique mesh construction leave enough rooms for plants to grow and light to enter between the strands. Its water absorbing capacity helps conserve soil moisture and anchor soil firmly in place and thus gives succor to soil eroding. It is flexible and foldable car be used any places. Available with specification of width: 48 Inches, Weight: 1.22 Lbs per sq. Yards, Packing 600/900Yards/Bale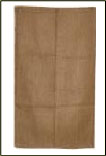 Jute Tape:
Jute tape used in the plantation mostly it is used for wrapping roots of the Three. Jute tape produced in different color. Colored Jute tape also used in decorative purpose.
Jute Yarn/Twine …………
Used for producing machine made carpet blended Fabric. Available with specification of 4 to 50 Lbs, 1 ply to 6 ply in natural color, bleached and dyed in different colors in Sacking, Hessian, CB, CRM, CRT and CRX quality, packing in trusses or pallets.